The markets rising rapidly over the last month took a nosedive last week, with small and mid-caps losing more than 5% as Nifty crashed 2%. However, Bank Nifty has been robust during this correction.
While some investors are wary of the short-term losses incurred in this correction, the robust earnings coming out of the market and the supportive growth outlook with the economy reopening project a positive outlook for the market. Thus, if the long-term growth narrative is believed, the markets are offering us a discount!
But for now, let's do a review of the month that was for the Indian markets.
Broad Markets
Looking at broad market indices this month, we see that the Midcaps & Smallcaps that were outperforming till last week have nosedived, and Gold has had an uptick.
Still, on a month-on-month basis, the midcaps are the best performers, albeit with high risk.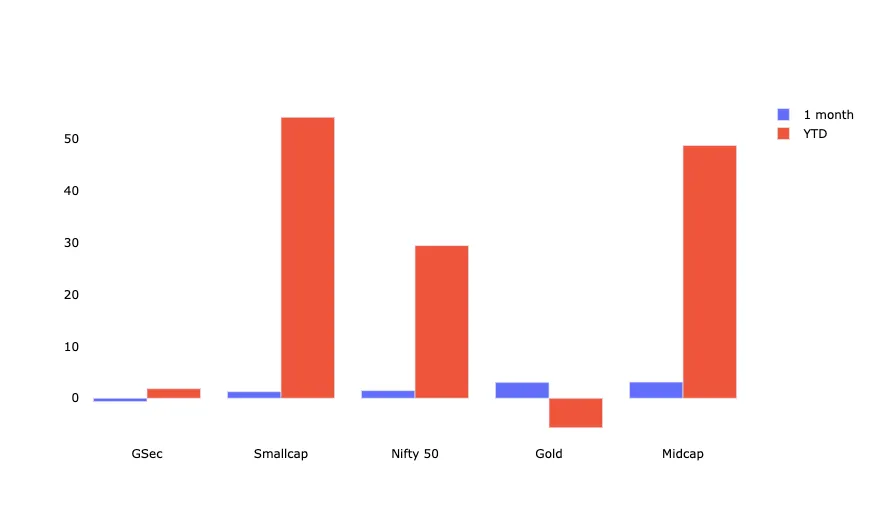 Sectors
Banks and Financial Services have been the best performers this month. Conversely, FMCG and Pharma are underperformers.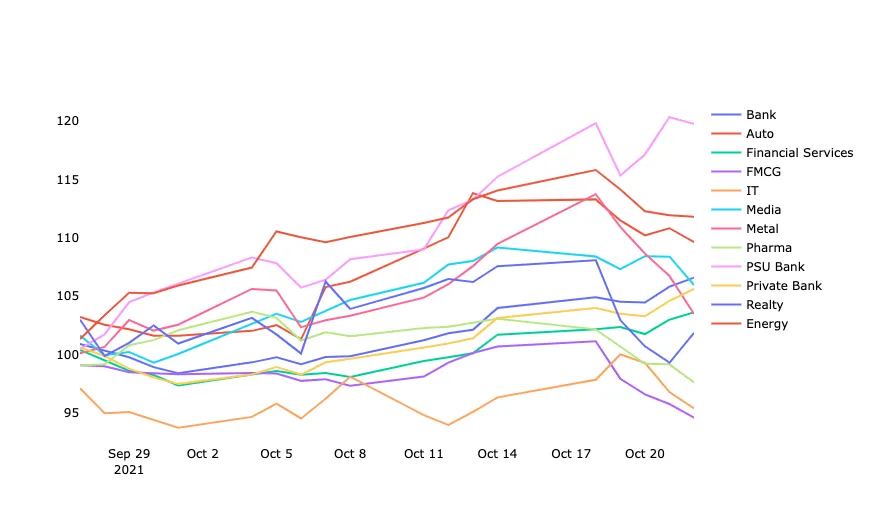 PSU Banks have had the highest growth, followed by Energy and Auto.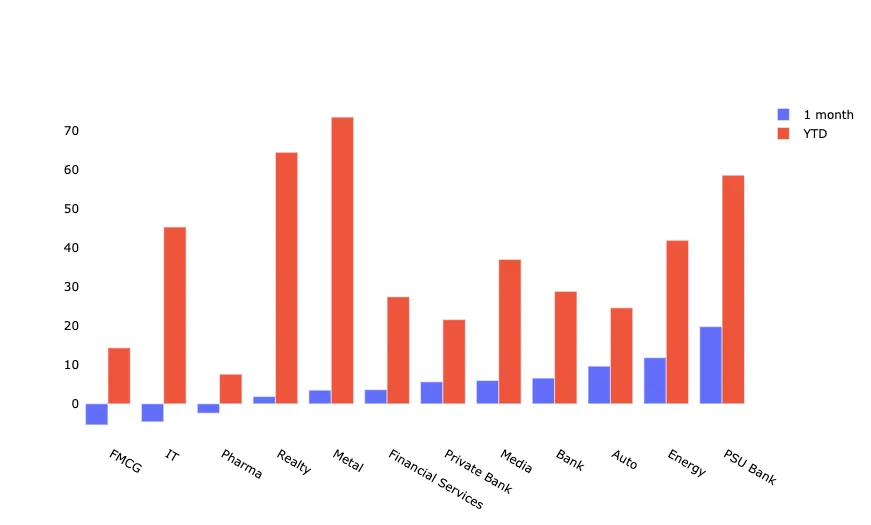 Factors
All Factors slashed and burned last week, with Momentum and Alpha posting significant corrections.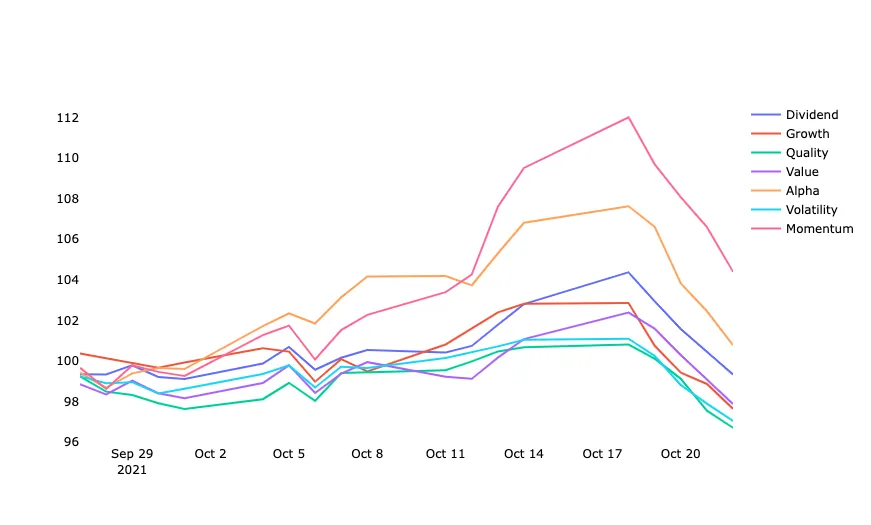 Momentum is still the best performing factor in the last month.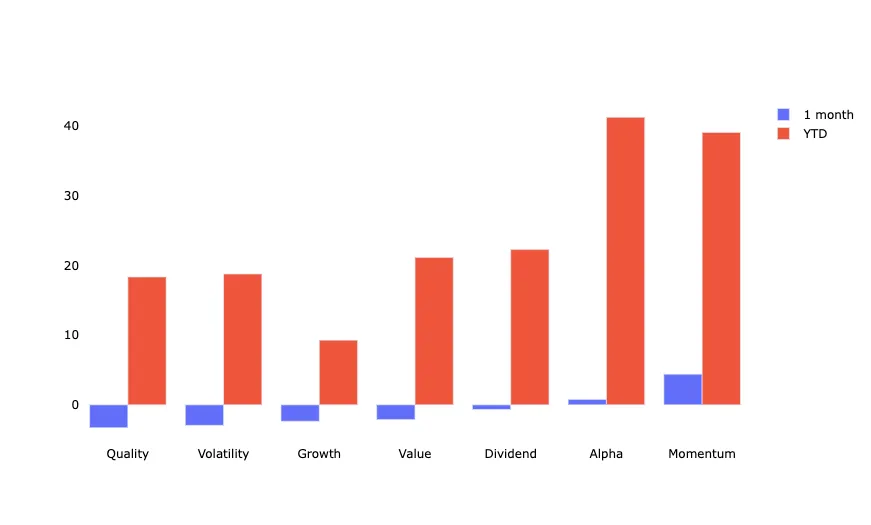 Performance
Let's look at our multi-factor portfolios - balanced, growth & conservative first. We have allocated momentum & growth in 2021, which has led to solid performance. Last week these portfolios also registered a 2-5% drawdown, with conservative being most robust.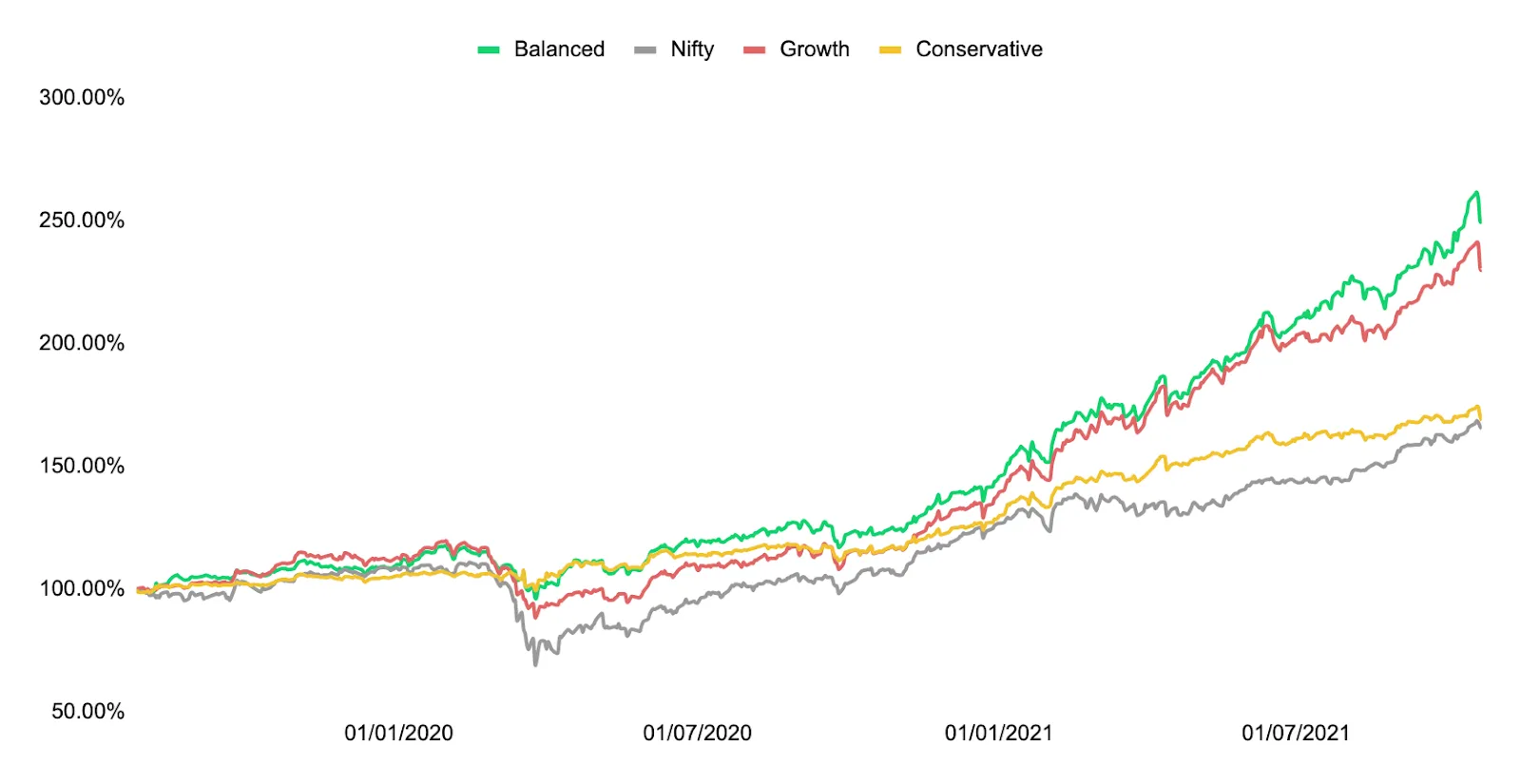 Among the thematic portfolios, momentum, which saw very rapid growth in October, shed many profits. Our innovation and Smallcaps portfolios also suffered. Finally, quality had a slow month in October.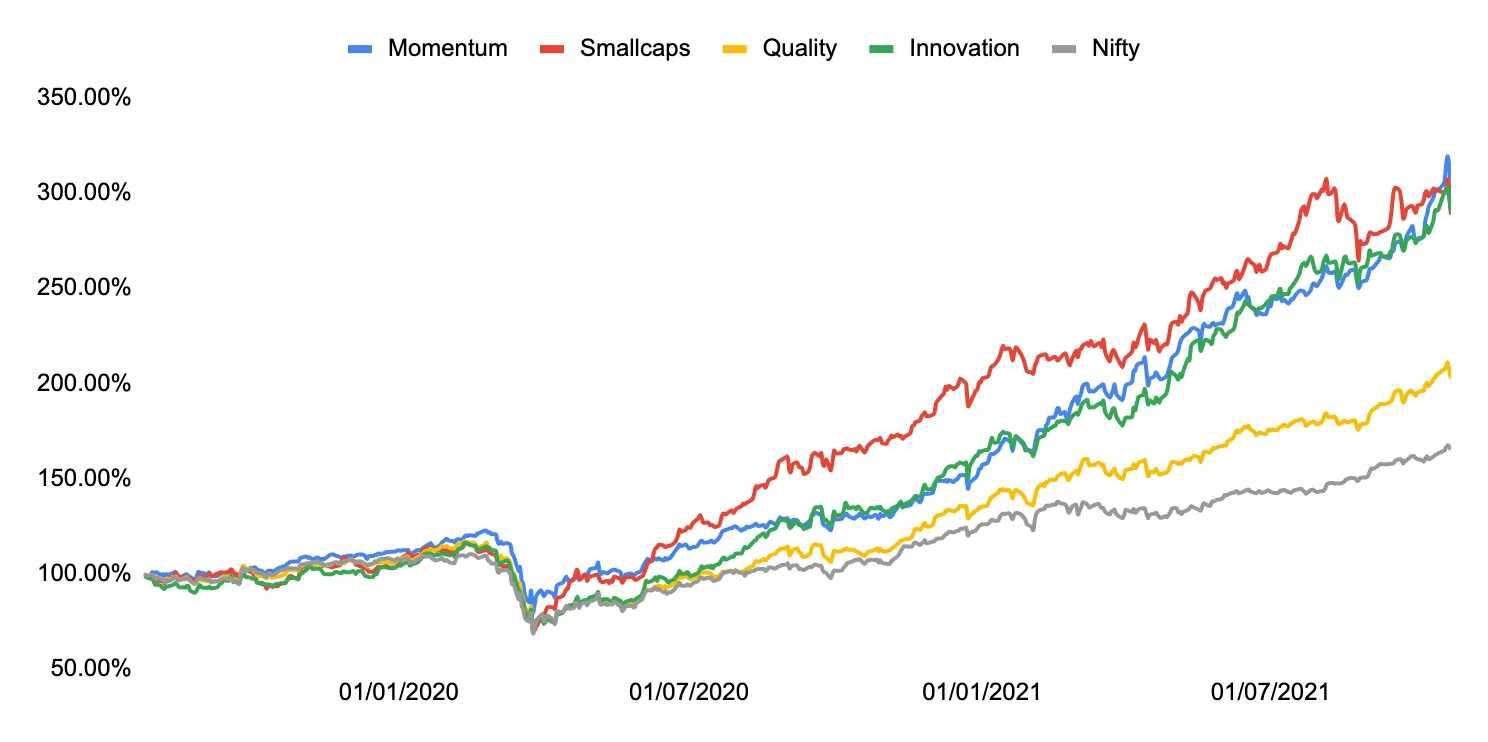 We see good outperformance over the index in all our core and thematic portfolios in 2021.
Earnings Update & Preview
Since we are in the middle of the earnings season, we need to understand the numbers posted and the outlook.
The IT sector was the first to post its earnings and, as expected, showed overall healthy earnings growth. TCS posted a 7% growth in profits, Infosys posted a 12% growth, and Wipro 17% QoQ.
The Banking sector, which has gained momentum, posted good numbers among larger banks due to growth in the disbursement of loans, improved net interest margin, and core fee income. For example, HDFC bank posted a stellar growth of 17.58% in profits, while ICICI Bank posted a 30% growth in profits YoY.
The Chemical Sector is expected to show continued momentum in demand for chemicals in the export market.
Commodity/Metals are expected to witness a sharp growth in realizations and volume on a YOY basis.
The Retail Sector is also expected to post excellent numbers on the back of solid volume growth led by an increase in footfalls post normalization.
Auto companies are likely to post a weak quarter due to production issues related to a shortage of chips and higher metal prices. But TVS Motors surprised the street by posting 41% YoY growth in profits.
The real estate sector is expected to show strong performance in the second quarter after a weak first quarter as the demand for real estate keeps on growing.
Energy stocks should be buoyant with the rising crude prices. In addition, reliance beat street expectations by posting a 33% rise in earnings YoY.
Pharmaceutical earnings are expected to grow at a modest 5% as domestic revenues of many companies will see erosion post COVID.
The tide seems to have turned down for sectors such as durables, cement, FMCG, and Telecom, touted to post modest numbers. HUL, Asian Paint, Jubilant Foods have already posted disappointing numbers this quarter.