Momentum Investing is simply defined as the strong predictive power of past returns influencing future returns. Unfortunately, a momentum-based investing approach can confuse investors, who are often told that chasing performance is a mistake and that it is impossible to time the markets. And so creep up several myths about Momentum Investing.
In this post, we will set the record straight and bust some myths around Momentum Investing!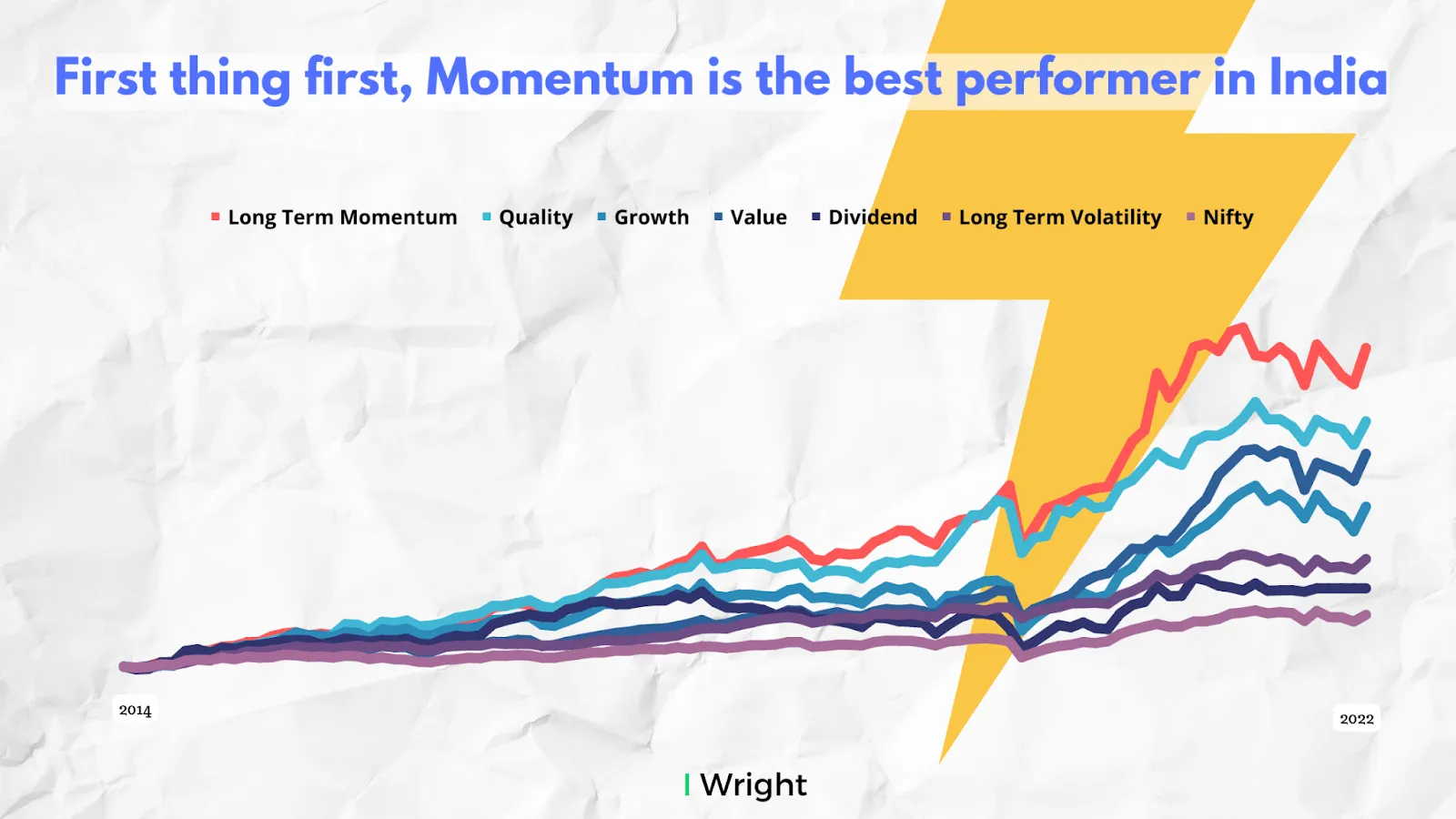 But before we start, here's why we love Momentum so much - it is the best-performing strategy in the Indian market! More than a decade's backtesting data puts Momentum at the top of the chart in terms of performance - not just in trending times but also in Volatile markets.
The Indian market has undergone significant growth phases, and as growth picks up, Momentum shines!
So without further ado, here are the top myths about Momentum Investing - BUSTED!
Myth 1: Momentum Performance is sporadic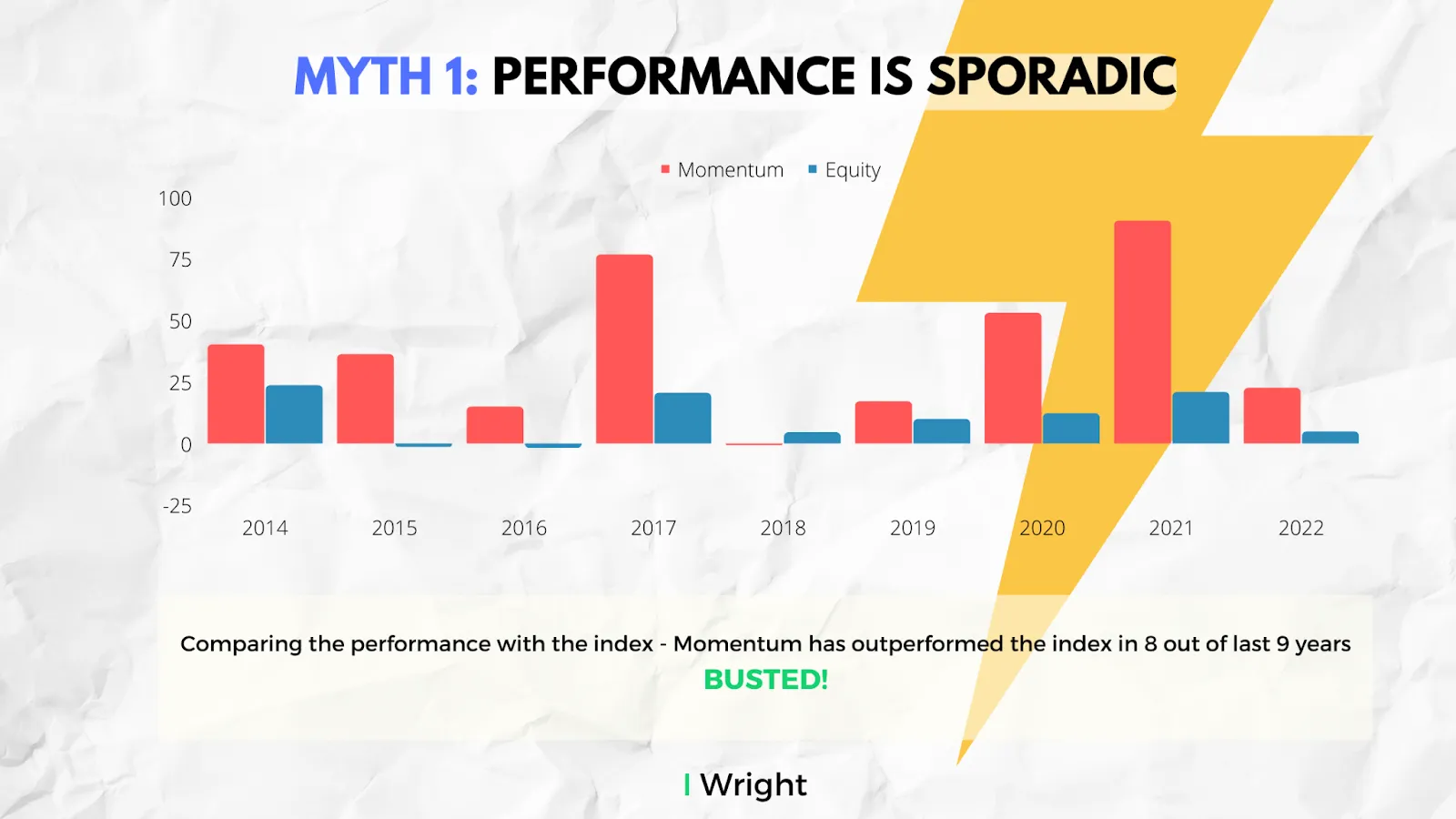 There's a popular Momentum myth that this strategy will work only for a short time and then lose flavour. But look at the data. Momentum beats the Nifty index performance in 8 out of the last 9 years, and the same pattern is seen in any horizon you look at.
Myth 2: Momentum is not for long-term investors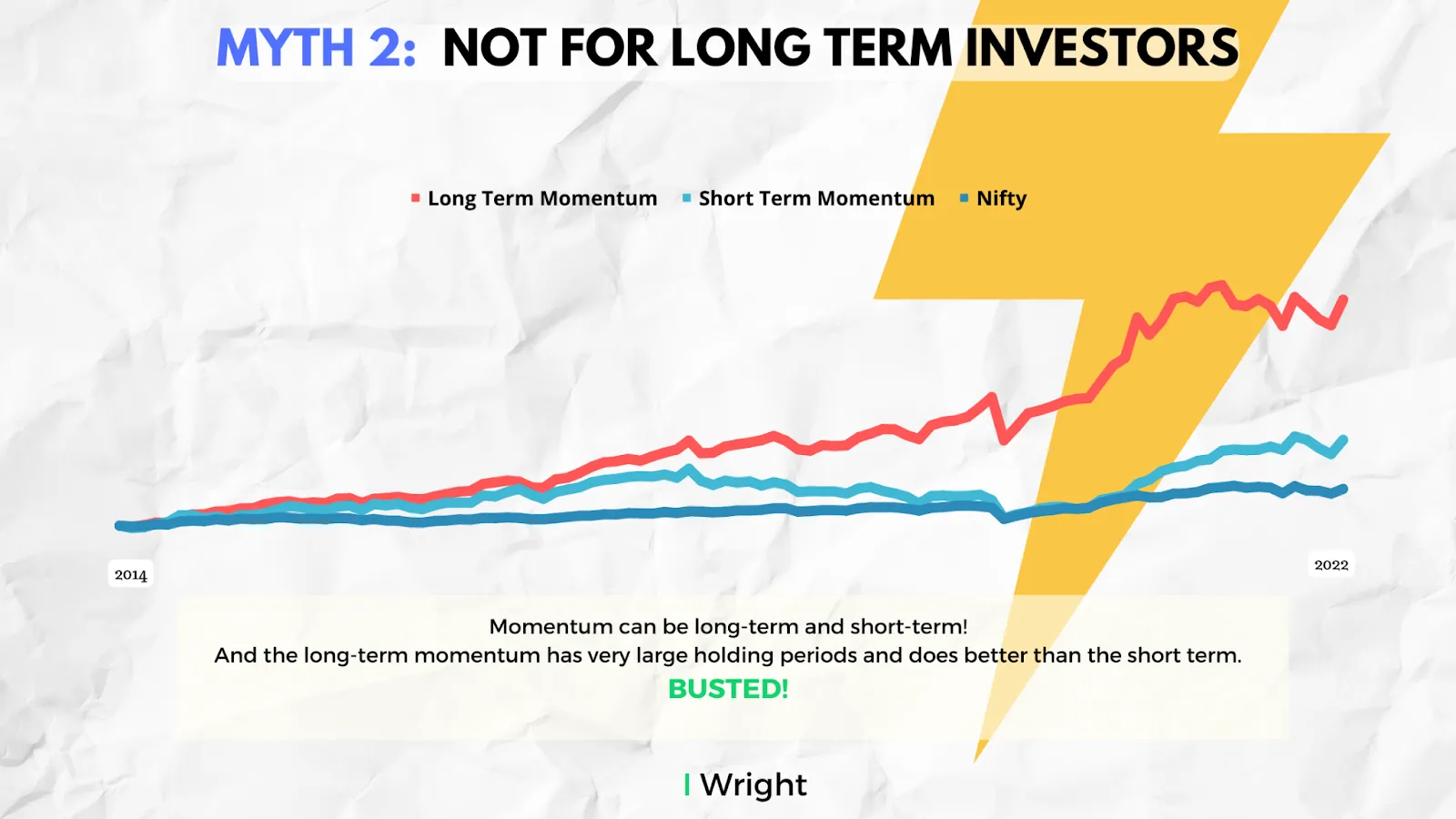 Momentum can take many different forms. You can have long-term momentum, short-term momentum, and even intraday momentum! And look at the data again, MOmentum works better in the long term. So we are looking for longer-term trends with a horizon of over a year or so. This means that Momentum is an excellent long-term investing strategy!
Myth 3: Momentum doesn't work in volatile markets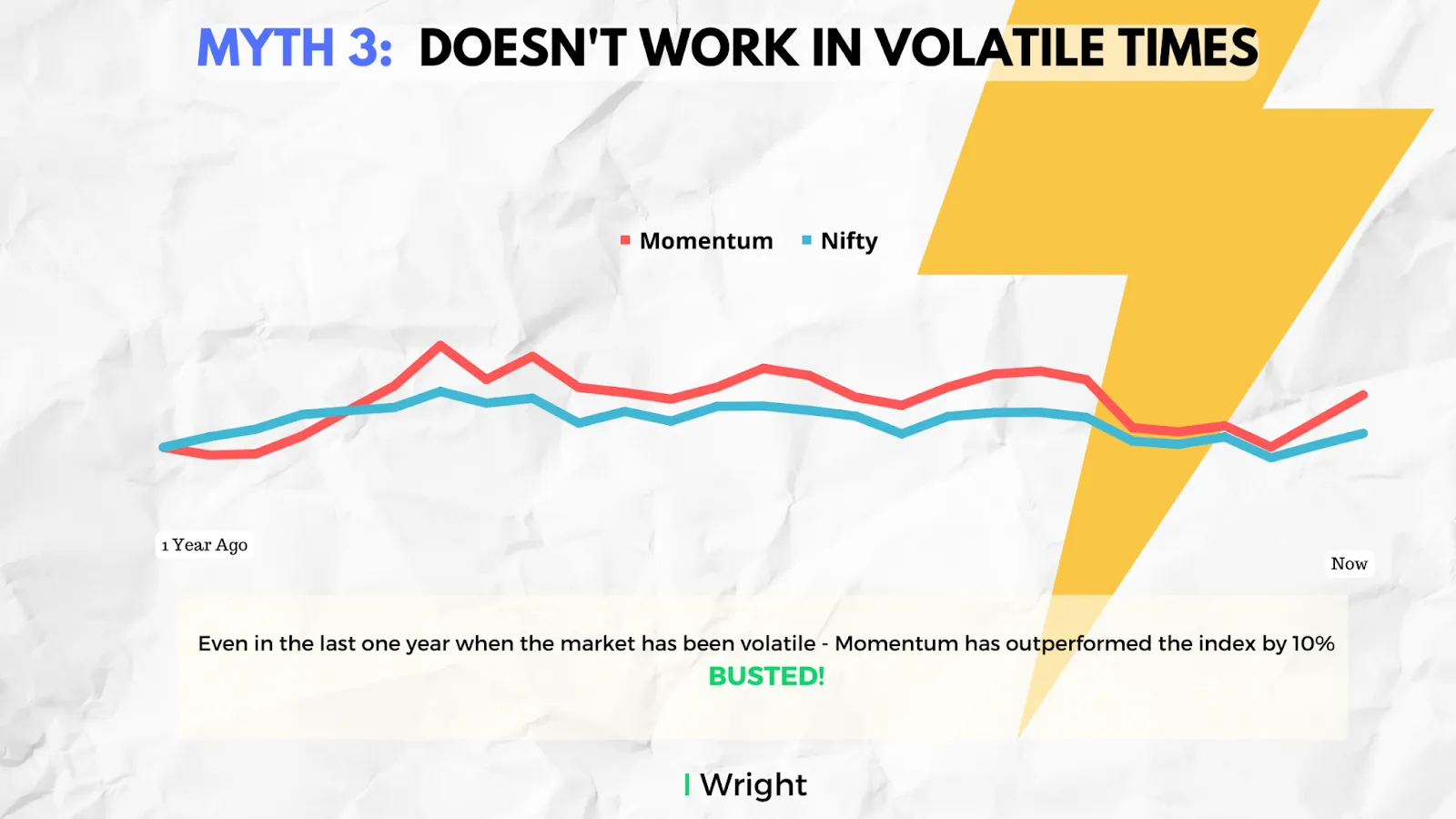 This theory is a popular one. But it has been broken in a big way and most recently! In the last year, when the markets have been most choppy, Momentum outperformed the Nifty index by 10%.
Myth 4: There is no theory behind Momentum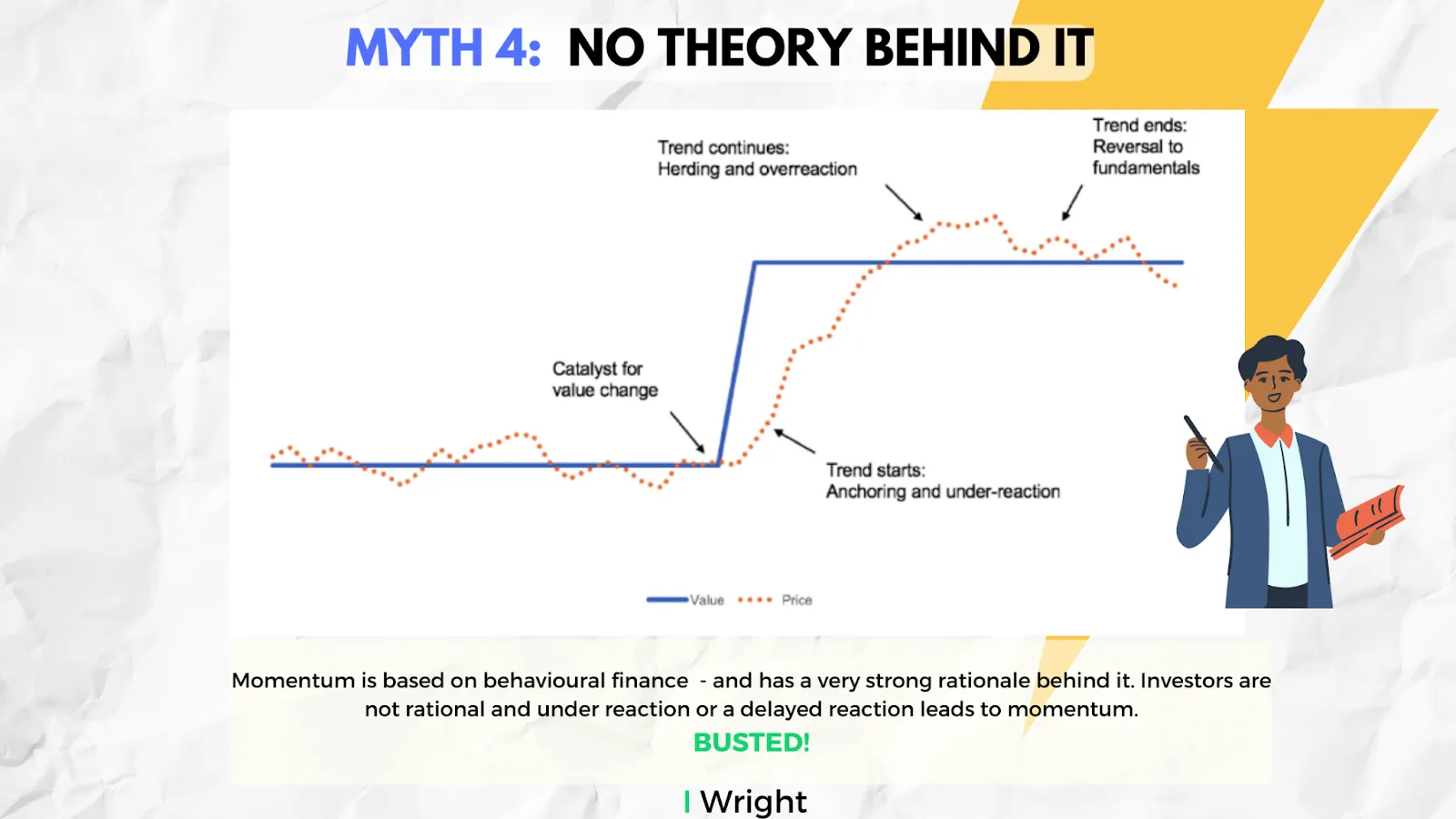 Many analysts and academics dismiss momentum, saying that the returns do not have any "real basis" and are "not linked to fundamentals." However, momentum in stocks is not only strongly linked to fundamental changes in value but also accounts for the irrational nature of stock market investors. It captures significant investor biases like initial underreaction, delayed overreaction, herding, and confirmation bias.
Myth 5: Momentum is too Risky
Momentum does have a high risk but definitely not too high. In a ballpark, momentum risk is roughly 10% more than the Equity index. Still, the reward for the same risk is phenomenal. Momentum has beaten the equity index in terms of risk-adjusted returns by a wide margin over the last decade, almost every year!
Wright⚡Momentum
Wright Momentum is the most loved portfolio by Wright Research. Over the last couple of years, it has delivered a whopping 56% CAGR. It has also shown a spectacular recovery over the previous month and has recovered 12% during that time.
Feeling optimistic about the prospect of Equity markets recovery? Now is the time to catch the Momentum!