YEAR IN REVIEW
The markets are ending this year with a 10% correction in the cards for more than 18 months. As the year ends and we look back, we can declare that 2021 was one of the good ones! And as India's economy starts gaining strength and the earning cycle is showing signs of growth, we are well prepared for good things to come in 2022, even though the fears of FED rate hike and Omicron variant are ever-present. '
Looking at broad markets, Smallcaps had a fantastic year leading the Midcaps & Largecaps to end on top. While Nifty had a 24% return this year, the smallcap index gave 58%, and midcaps 45%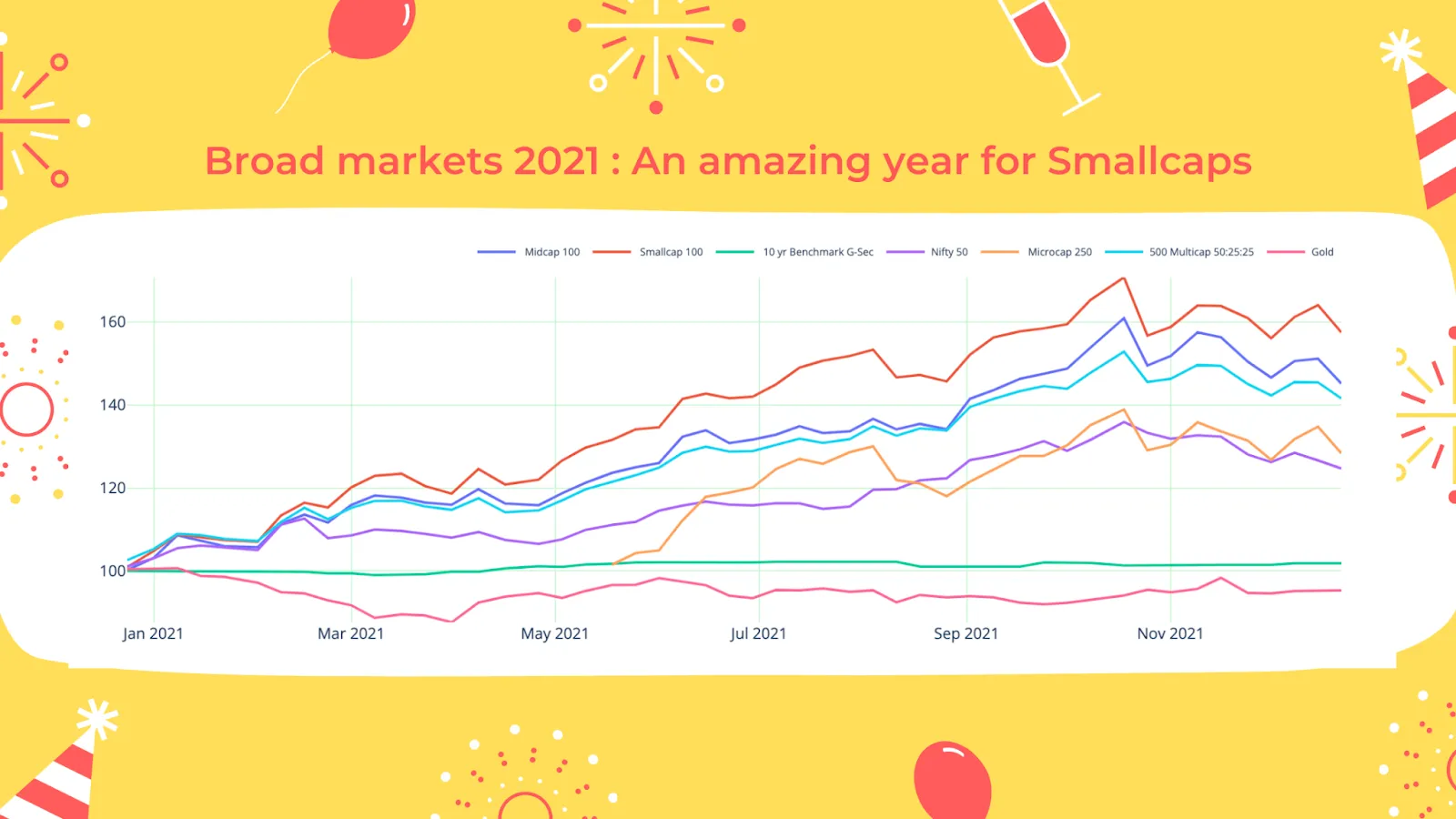 2021 was the year of IPOs! Over 1 lac crore worth of funding was raised from the public markets from IPOs by 55 companies, and the IPO trend might continue in the new year with India's unicorns choosing the public market. Some big names like Paytm, Zomato, Nykaa, Policybazaar, Metro Brands came into the public market this year. Here's the biggest, best, and the worst of the lot: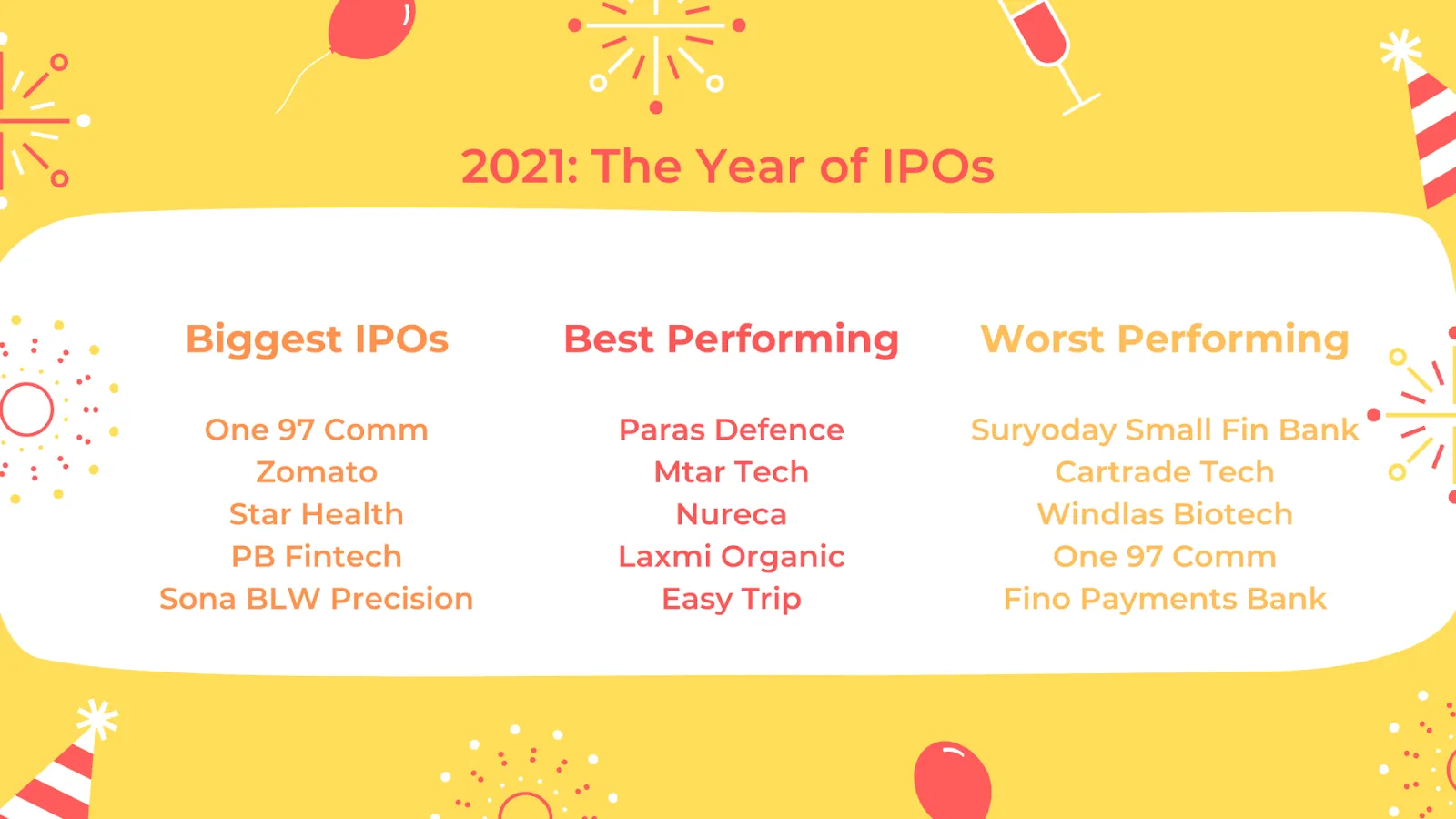 IT was the sector to invest in. Midcap IT stocks rose to new highs and stayed stable even during the market volatility. Metals and Real Estate sectors gave massive returns as well. The laggards were Pharma and Banking. Banking is expected to lead the recovery in the new year as India's credit quality improves and banks are getting to their best health.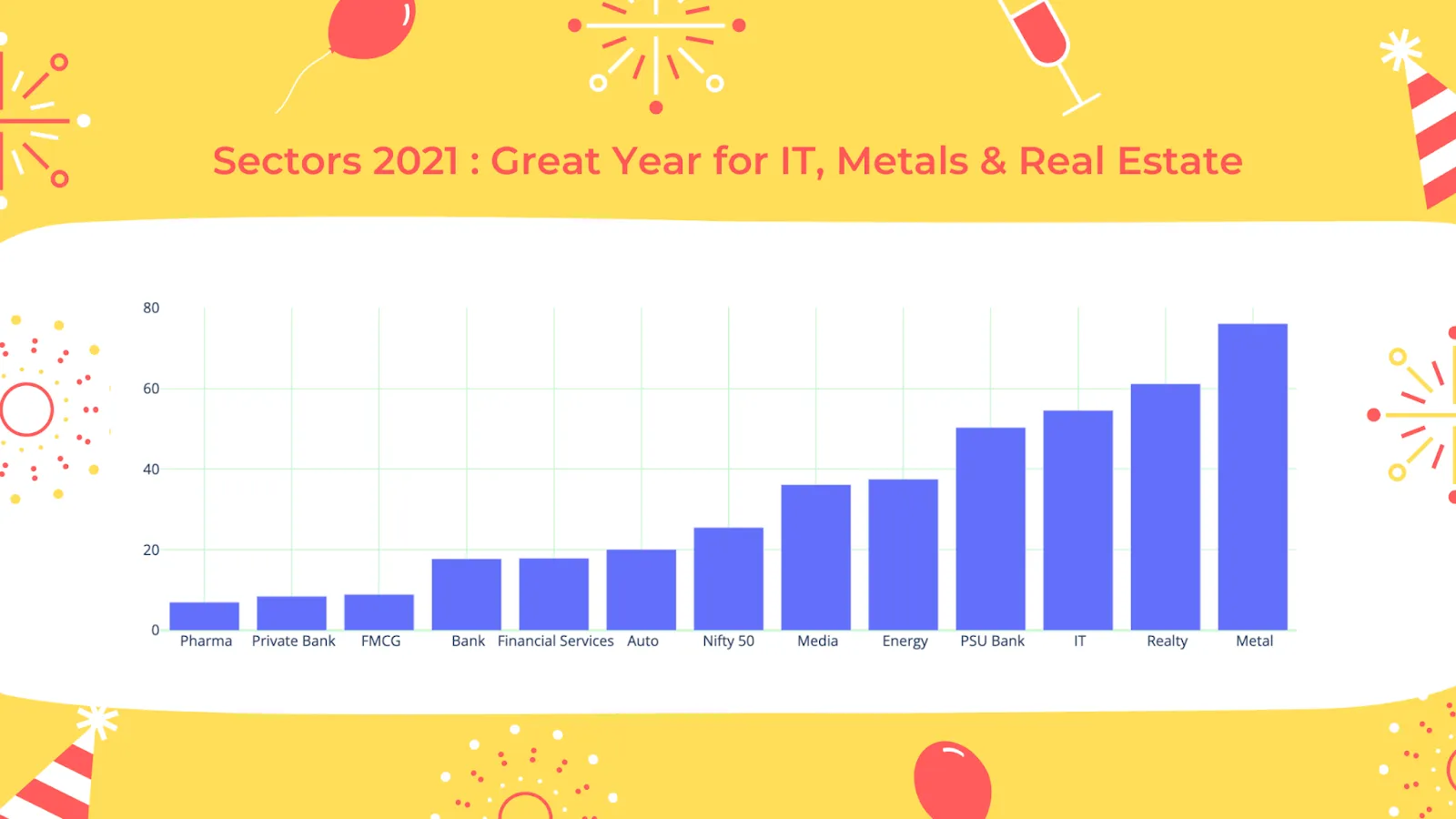 Momentum & Alpha led, and Value rebounded. Momentum and Alpha stayed strong while Value made a comeback at the end of the year. Low Volatility did well during volatility, and quality is expected to make a comeback.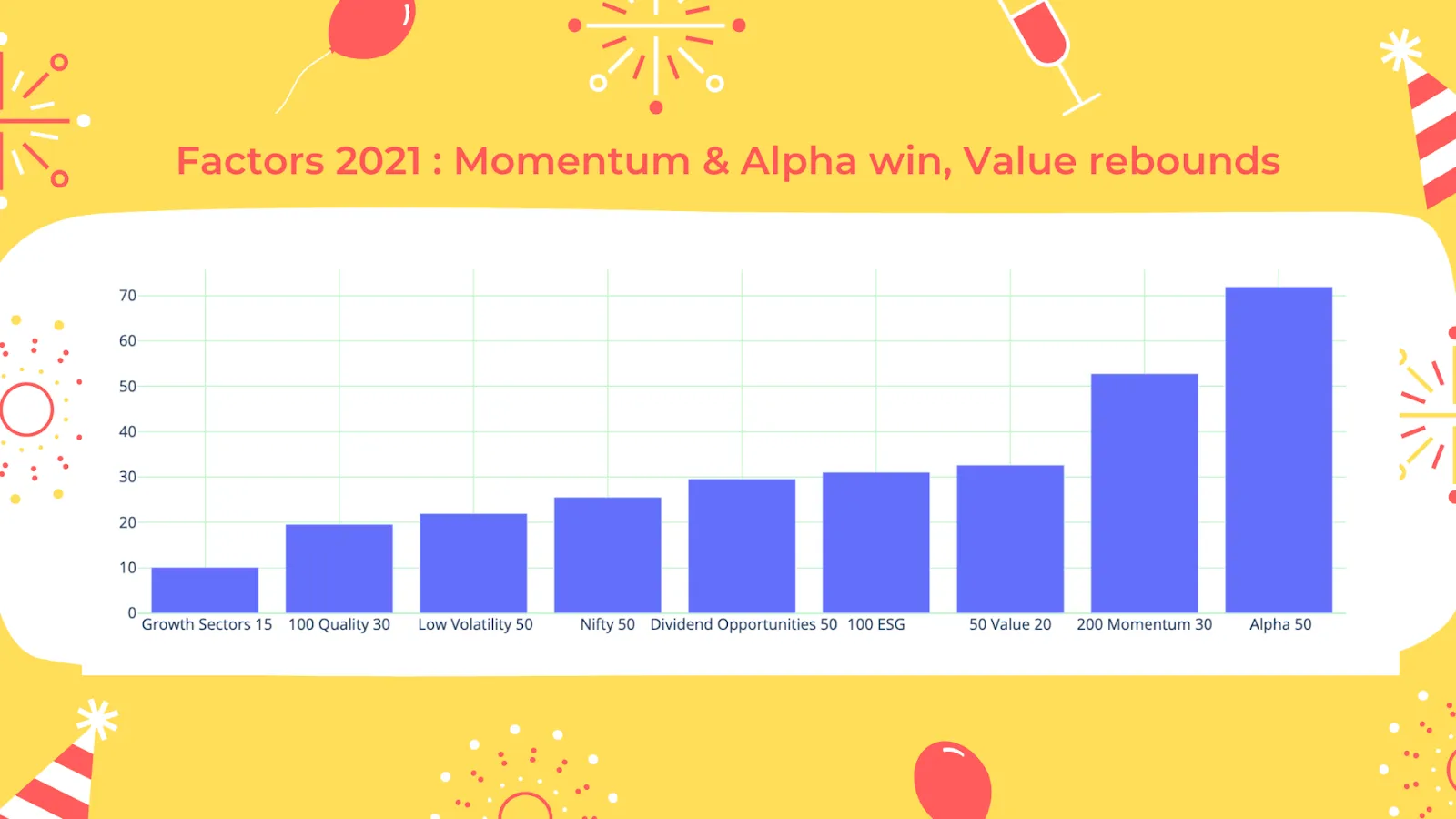 THE WRIGHT STUFF
Balanced MFT gave another spectacular year at 66%. Towards the end of the year, our regime shift model detected that the markets had become volatile and we deallocated a little from equities to bond & gold ETFs and bet on Value plays along with Momentum. Momentum had the highest allocation in MFT at the beginning of the year, which did well.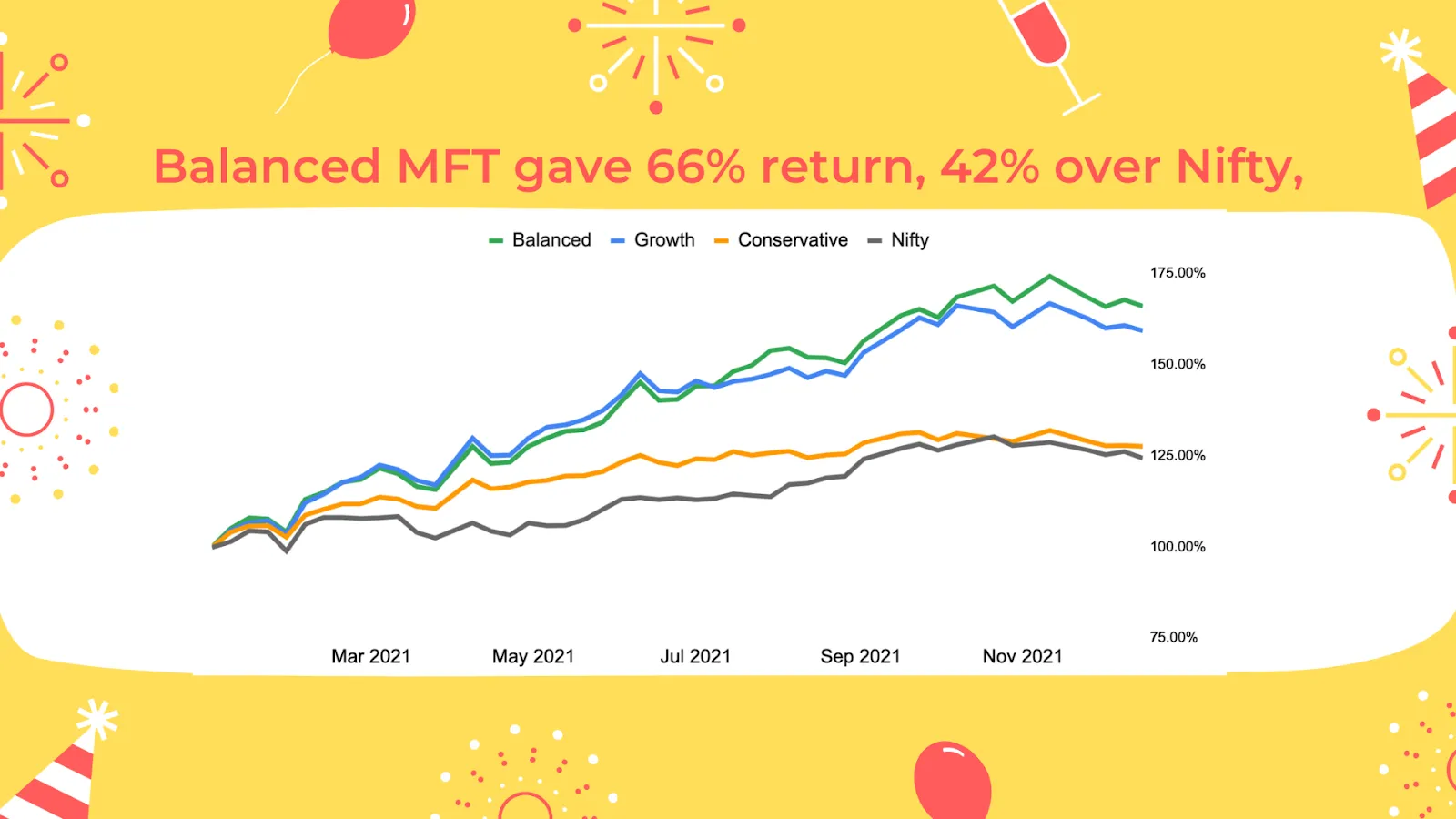 Wright Momentum was a clear winner, and Innovation shone. The momentum ended the year with 92% returns, and Innovation clocked 67% in 9 months. As more new-age companies enter the equity markets, Innovation has an exciting path ahead! Smallcaps lagged as momentum among small-caps crashed, but it is starting to pick up the pace with allocating value and quality factors.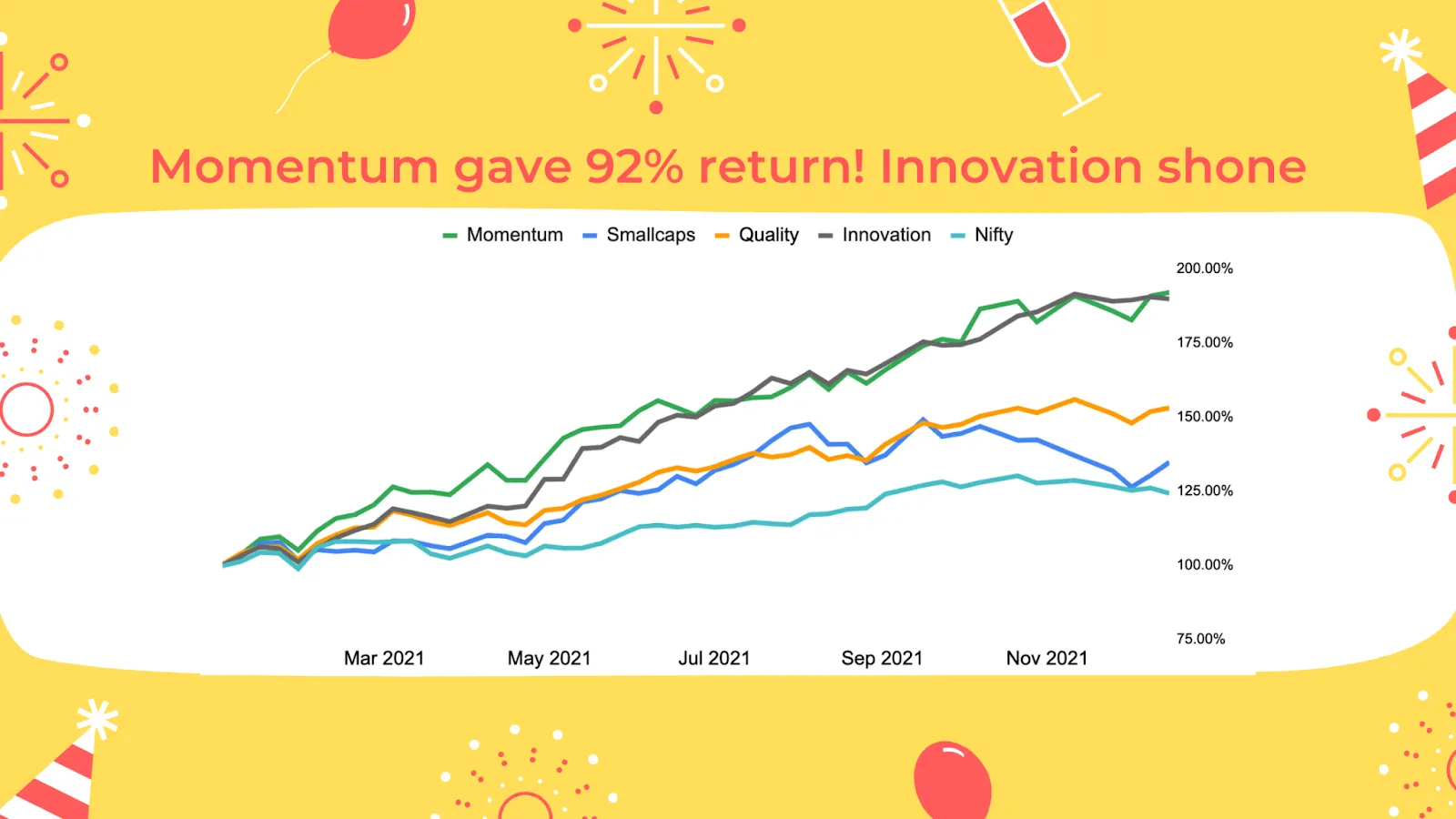 LET'S TALK ABOUT 2022
The markets are entering the new year fresh out of a correction. The long-term growth story of Indian equities is getting stronger and stronger. We expect the market to rebound and create fresh opportunities.
Here are our top picks for the new year:
Sector Picks - Banks are overdue for a rebound, and Pharma is also showing momentum. Industrials, Real Estate, Metals sectors are expected to shine in cyclical growth. We are excited about the New-Age companies as well.

IPOs - Experts are projecting that 2 lac crore could be raised via public markets next year! LIC, Byjus, Ola, Delhivery, Pharmeasy, Go Air, Mobikwik are some big names expected to go public.

Thematic Picks - Momentum could come back in flavor as markets gain strength. If the liquidity dries up, then Quality companies will shine more. Innovation is a new theme performing well and will shine.
What to be careful of? Unfortunately, some major global concerns can play a spoilsport for India. Here are our top problems:
Omicron: the virus is projected to spread rapidly, and even though it is mild, ensuing lockdowns could slow down the economy.

US FED & Inflation: Inflation is rising rapidly in the US. The FED might start accelerated tapering, sending shockwaves in emerging markets.

China: Infrastructure collapse in China after they removed the liquidity is concerning, and it could also cause global panic.
What to be excited about? There is much to be excited about in the next year as well.
New Economy Sectors: Indian markets are shifting focus to new economy sectors - Fintech, E-commerce, Electric Vehicles, ESG which will all continue to create exciting opportunities in primary and secondary markets

GDP growth & Budget: Budget would be an event to look forward to bringing back the growth expectations, and we can expect the GDP growth numbers to be robust

Earnings Growth: Earnings season has been fascinating for the past few quarters, and the growth numbers are expected to be rising in the next year.
Wright Research community has grown big the past year, and we love and cherish every one of our subscribers. We wish you the best of health & happiness year and an exciting year in the market along with Wright Research.
Use coupon WRIGHT2022 to start your investing journey with a 22% discount this New Year!