We have completed 3 months since we started our multi asset tactical portfolios! We'll start this update with a big thanks to all the investors who have shown a trust in us. Your trust is our biggest asset.
Let's look at the live performance, market allocations, cost concerns and the plan ahead in this post.
Live Performance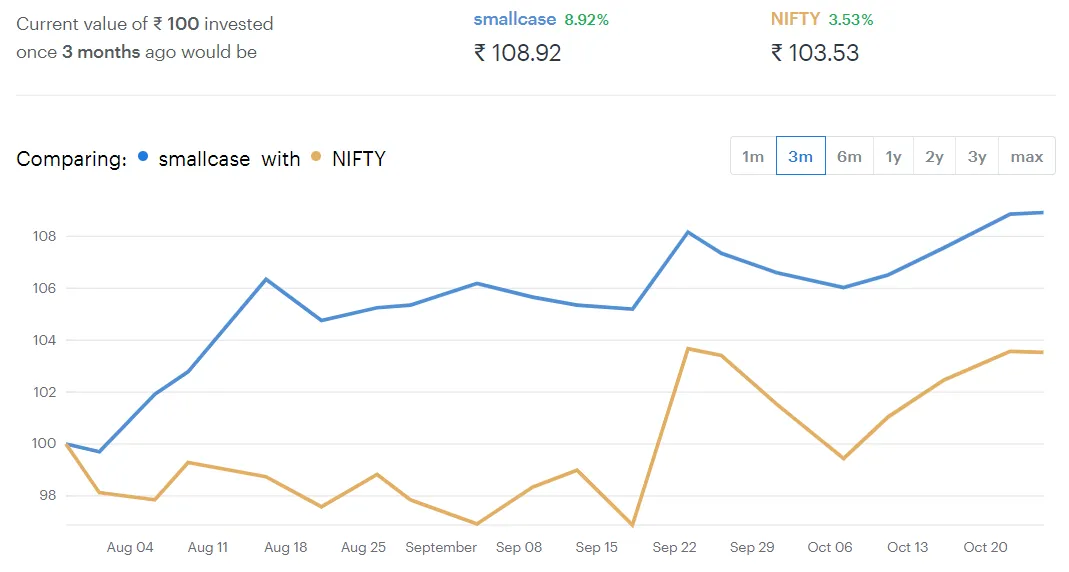 The live performance has been the most encouraging with the Multi Asset Tactical portfolio giving us 8.92% returns compared to 3.53% by the Nifty Index, which amounts to a an out performance of 5.39% in 3 months.
These are just the theoretical index returns, that do not consider the costs incurred when the portfolio is churned. We will look at costs later in the post.
Broad Market Allocations
For an analysis on the source of returns, lets look at the sector allocation. We had ~ 50% allocation to bonds and 15% to Gold a month back. We have now moved to ~ 15% allocation to Bonds, 0% to Gold. Among equity we are most overweight on Energy and FMCG sectors.

Turnover and Cost Concerns
The portfolio has had a turnover of around 300% since we started. Initially we has some unwanted churn when we switched bond ETFs but now the portfolio is very stable with < 25% churn expected at each rebalance. The cost adjusted returns are:

Here we see adjusted returns at various cost assumptions (5, 10, 20 basis points). Expected cost at most brokerages is 5 basis points and the most conservative case would be 20 basis points.
Having worked at a trading execution desk at Edelweiss for 4 years, I think that we can do much better on execution and I am exploring solutions around that.
Plan Ahead
We get a lot of questions about what would happen in a 2008 like scenario and how would we handle it, so we want to create a macro-economic model for long term regime modelling. We are also looking at publishing a pure equity strategy which would carry a higher risk and higher return soon.
We have also been working on our websitewww.wrightresearch.inwe'd really appreciate if you could take some time out and give me a feedback on ithere.
Happy Diwali and Happy Investing!