Budget 2022 is a Capex boosting budget which is prudent in other expenditures as the FM looks to contain the fiscal spending while enhancing growth. As expected in the election year, there is an increased focus on welfare schemes and agriculture. However, for India to keep up cyclical recovery, the government needs to focus on infrastructure. Therefore, the FM has increased the Capex investment target by 35% to 7.5 lac crore and announced critical investments and policies for infrastructure development via railways, metro systems, highways primarily through the PM Gati Shakti initiative. Railway and Logistics linked stocks, Capital Goods, Cement, and Real Estate will gain with this.
FM has focused on Fintech instead of Banking, Electric Vehicles, and Edtech instead of Education which has brought back focus to the new-age innovative sectors. FM has also kept an increasing focus on digitization, leading to gain for the platform companies and fintechs. FM has also given some relief to the pandemic hit hospitality sector. On the other hand, the budget has tried to contain crypto investments by increasing taxation.
The budget also announced healthcare, education, banking, and urban & rural development policies to decrease compliance burden through digitization and increase education and skilling.
Q. Where are markets headed post-budget?
The budget seemed to meet market expectations, and nothing unexpected was announced. The markets kept their opening buoyancy during the FM speech and have recovered well after the announcements. Banking stocks are leading the way!
The markets might focus on infrastructure spending and prudence in terms of Fiscal spending positively in light of the need for growth and the fears of Fed rate hikes. In addition, the welfare schemes for urban and rural poor were also urgently needed to boost consumption, and the market will not receive these poorly.
Sectors in the limelight will be infrastructure, logistics, cement, real estate, agriculture, digital & fintech players, sustainability, EVs.
Q. What stood out?
This is a Capex budget, and the FM has come out strong in terms of infrastructure spending. This would go a long way for India's cyclical recovery in the next few years. Focus on digitization and reducing the compliance burden for various sectors was also a stand out of this budget. While the focus on welfare was there, the budget did not turn out populist, making it positive.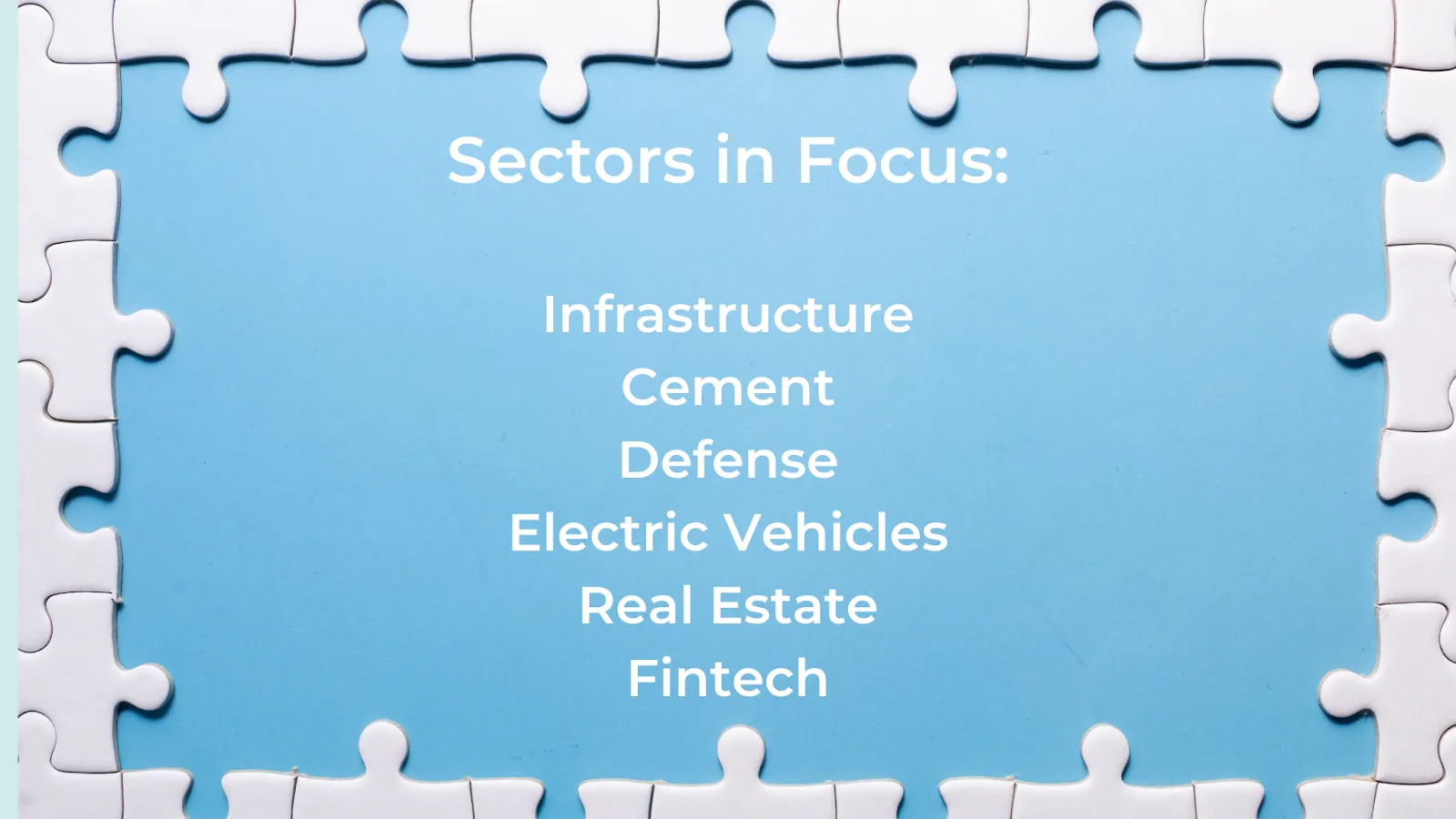 Top Sectors
After this budget, the top sectors will focus on infrastructure, logistics, cement, real estate, agriculture, digital & fintech players, sustainability, EVs.
Infrastructure linked sectors - Capital Goods, Logistics, Cement
The infrastructure budget increased 20% to 7.5 lac crore and is the biggest beneficiary. With the PM Gati Shakti initiative, policies for infrastructure development via railways, metro systems, highways were announced. Policies to ease the compliance burden, increase digitization and transparency were also announced. The key gainers will be logistic companies, cement stocks, capital goods, and real estate. Oberoi Realty, India cements, Honeywells are some stocks that have gained significantly since the budget announcements.
New Age Sectors - Digital, Fintech, EV
The budget has finally brought back the focus to stocks of the digital, fintech, and electric vehicle themes which have been underperforming for some time. The FM has kept a strong focus on digitization for inclusivity and banking penetration via Fintechs. She has also announced critical initiatives for the EV and green energy sectors like Battery swapping reforms, 19,500 Cr PLI for Solar PV modules, and green bonds. Edtech also received many mentions with plans announced to create digital education programs, portals, and a digital university. Paytm, Policybazaar, Tata Power, and Minda Industries would be stocks in focus here
Top Stocks
The biggest gainers post-budget will come from the infrastructure-linked sectors and new-age companies. Our top picks are:
Infrastructure linked stocks
L&T, Dilip Buildcon, Allcargo Logistics, Oberoi Realty, India Cements, Ultratech, Honeywells, Tata Steel, Container Corporation of India, IRB Infra
Tata Power, Amara Raja, Borosil Renewables, Adani Green
NIIT, Policybazaar, Nykaa
The Wright Pivot
Our portfolios have been green much of the last few days and in the recent rebalance we pivoted to Banking, Infrastructure, and Real Estate as per the model. Our multi-factor model hints at a strong recovery of the momentum factor.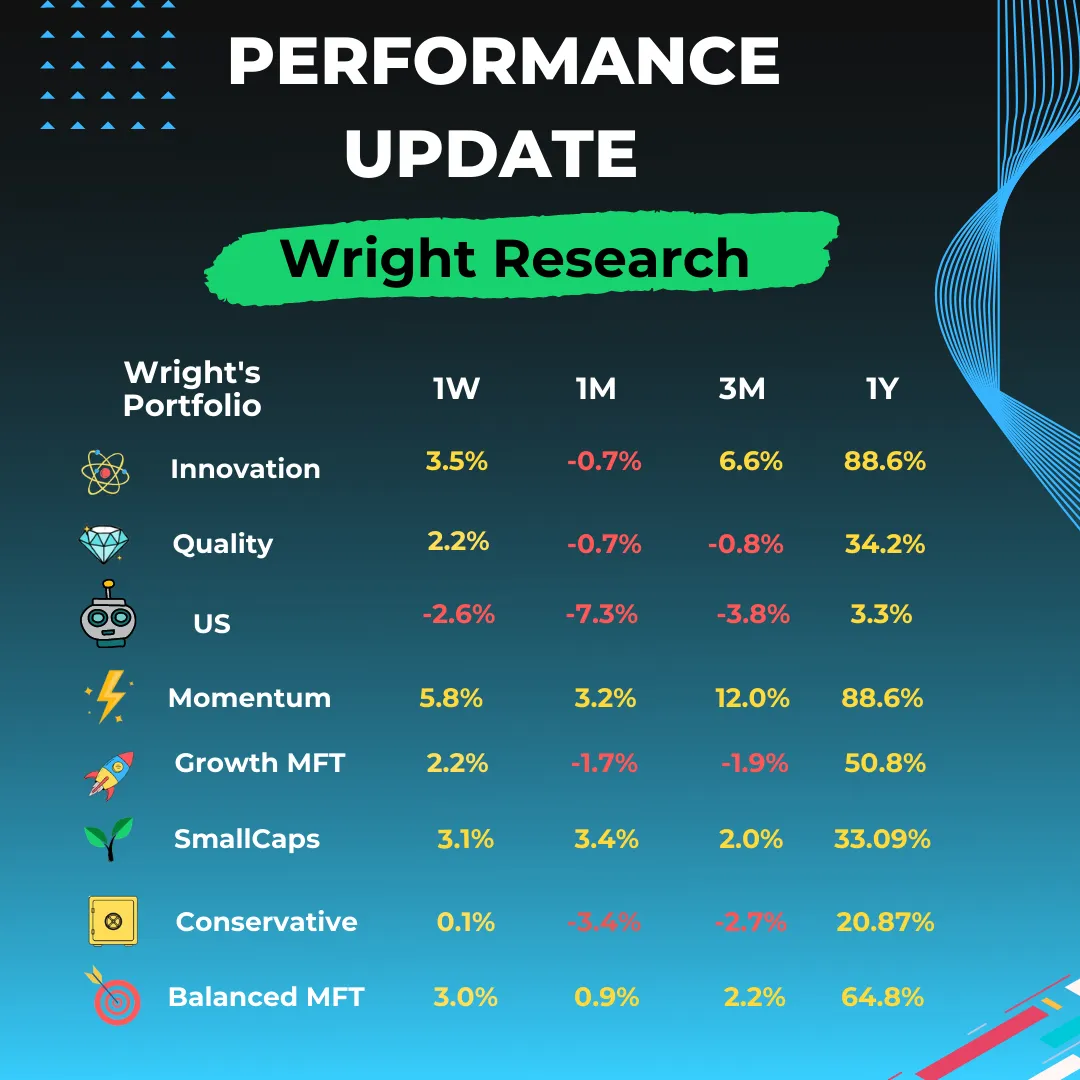 Q.Planning to subscribe?
Get 22% off
On all portfolios, till 5th February
Use coupon code: BUDGET22
Link to subscribe: https://wrightresearch.smallcase.com/