As we send out this monthly portfolio update, the biggest political event of the world: the US Elections has come to pass! The results came at a painstakingly slow pace in this pandemic hit year, but Joe Biden, the Democratic nominee seems to have been declared winner by all the major decision desks. While Donald Trump is still not conceding defeat, the uncertainty around the elections seems to be over!
We see the markets celebrating this victory due to the clarity it brings back into US policy making. We could see a new Covid stimulus being cleared soon in the US senate and Equities will be the most attractive avenue for investors in the near term.
While India wouldn't have been impacted much by the election of either of the two candidates, the getting rid of uncertainty will definitely cheer the markets up. Political analysts project that unless democrats are able to get majority in the US senate not much would change and there will be policy paralysis.
Joe Biden's selection should ease up the US-China trade war which will ease the burden on emerging markets like India especially in sectors like Metals. Biden might also ease the H1B visa restrictions which would be met with a cheer by the Indian IT and Pharma sectors.
The Indian economy is rebounding very well by itself, much stronger than what people expected. India & China are the only markets attracting foreign inflow and India will continue a positive bias. Indian markets have seen a much better than expected earnings season in the September quarter and an improvement in the macro indicators like the GST collection, vehicle sales etc.
How we are changing our allocations?
We are adding Financials into the portfolio looking the recent run in the Banking sector, expecting that to continue. Our portfolio is also holding on to the Technology stocks like LTI, TATAELEXI, MINDTREE and Energy stocks like ADANIGREEN and HINDPETRO.
Our model has pointed at a higher allocation to Momentum and High Quality stocks. We have exposure to Banking and International ETFs as well.
The sector distribution looks like this: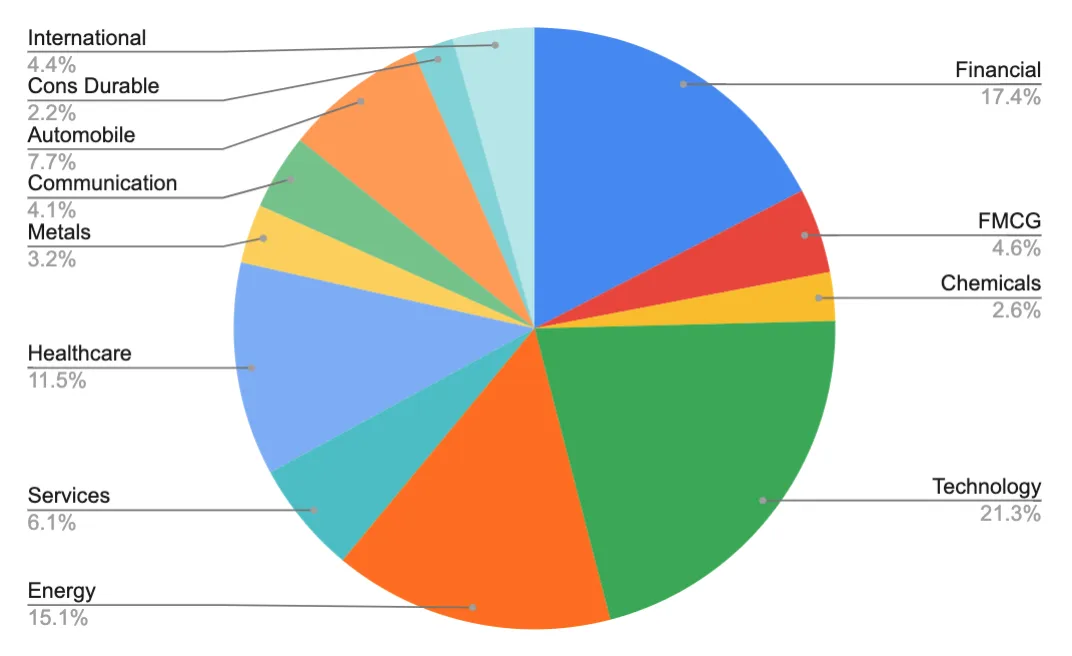 Our portfolio's historical performance is tracked here
Business Update
As shared with our subscribers, Wright Research has been operating as a trademark name for the investment advisory services given by Sonam Srivastava as an individual advisor. As per SEBI mandate an individual cannot have more than 150 clients, so we stopped taking new clients in October. We have made our application to SEBI to get the advisory license for "Wryght Research & Capital Pvt Ltd" which could come as soon as the end of the month post which we'll restart taking new subscribers promptly.