Did you know that tracking the stocks that are being bought by large institutions like Mutual Funds can be a very profitable investing strategy? Because institutions such as mutual funds, pension funds, hedge funds, and private equity firms have large sums of money at their disposal, their involvement in most stocks is usually welcomed with open arms and leads to price appreciation.
Though most mutual funds prefer to hop on a bottom-up approach when selecting stocks, fund managers always stay conscious about choosing the right sectors. They always seek specific sectors with a constant scope of healthy growth potential and consistent profitability.
In this blog, lets explore the sectors that mutual funds are buying!
Top Sectors Where Mutual Funds are Investing in 2022
With the emergence of the pandemic in the entire globe, brand preferences have taken a huge turn. Various new markets and technological advancements have taken place, which led to a huge change in how organizations operate. Many sectors have become favorable; however, some stay out of the list.
Wondering what these can be? Don't worry anymore! Here's a sought-after list of top sectors in which mutual funds wish to invest in 2022.
1.Banking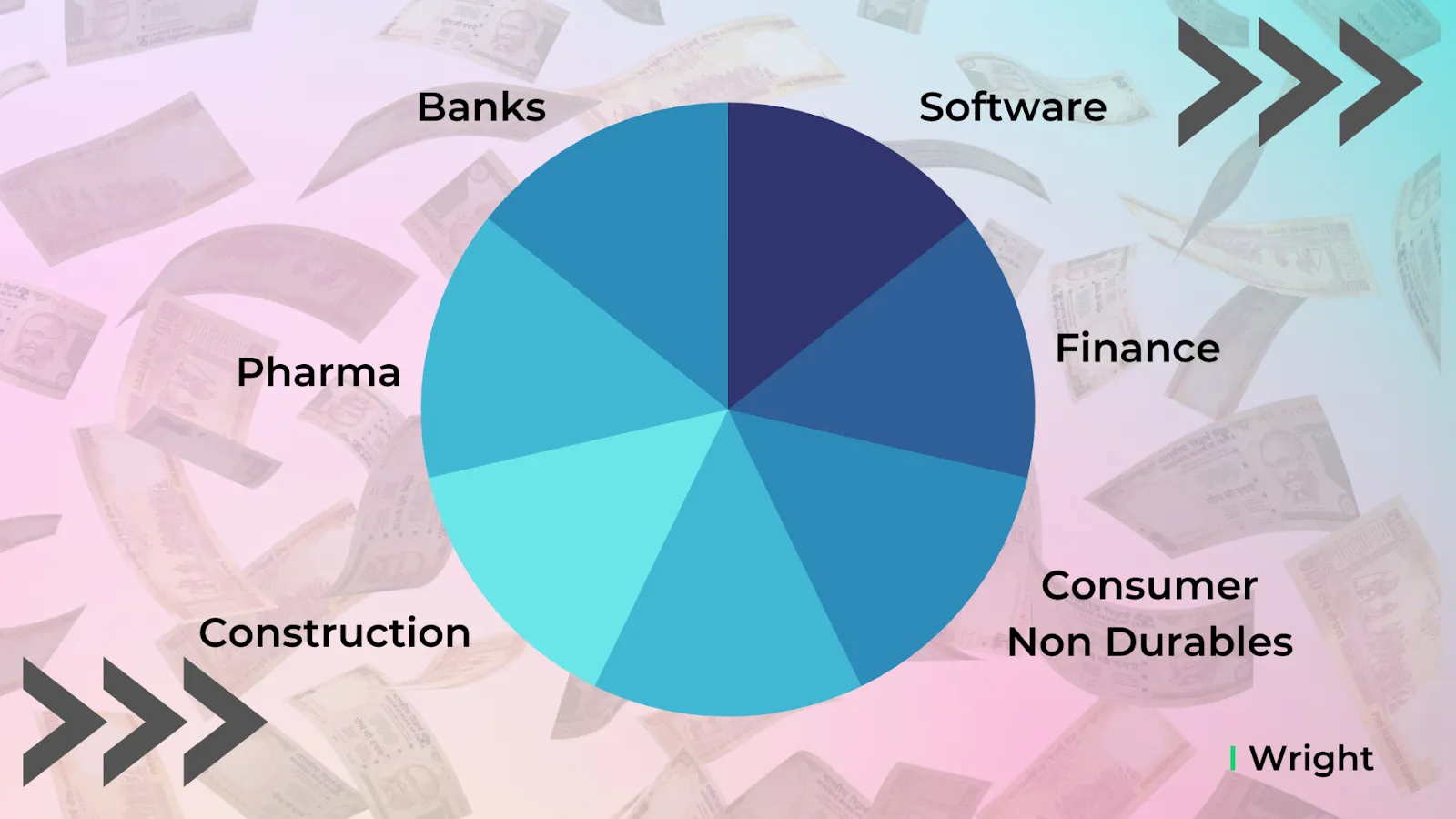 When it comes down to Mutual Funds, banking has always been on their top list since they serve quite a huge cash flow for their business, accounting for about one-fifth of the industry's equity AUM.
This specific and one of the most renowned sectors has been observed to have quite a fast-paced growth in the ever-developing world. It serves a huge contribution to India's GDP, especially over the last two decades; the amount has been extensively increased. The top 5 banking stocks which are held by mutual funds specifically include HDFC bank, Axis bank, State Bank Of India, ICICI Bank, and Kotak Mahindra Bank.
2. Software
With emerging technologies, businesses have increasingly dwelled in the online world and are greatly interested in the software domain. Especially the way that things turned around after the emergence of the pandemic, along with the way brands actually operated, have also experienced a huge shift.
Everything is switching in the digital domain, and technology has become an inseparable part of our lives. Due to this, various software companies have started getting capitalized on the trend, and people have started investing more in the technology domain. Some of the most preferred stocks include Tata Consultancy Services, HCL Technologies, Tech Mahindra, Info Edge (India), and Infosys.
Keeping it aside that IT stocks stayed far away on the organizations' priority lists, things have now hugely changed. Mutual funds extensively take into consideration various selective stocks as they are widely known for their accurate maintenance of dedicated balance sheets and multiple healthy earnings growth. Some of the top-notch fund houses include TATA MF, Franklin Templeton MF, and PPFAS MF.
3. Finance
Finance - a part that never goes out of a normal person's life, is such a sector that contains extensive money that can be gained if rightly invested. Similar is the case with mutual funds as they prefer it to be a highly profitable sector as well. Additionally, fund houses and various insurance providers have also opened avenues dedicatedly for fund managers so as to capitalize on their newer income streams effectively.
Some of the top-notch financial service-providing brands considered highly beneficial to be a long-lasting mutual fund investment include Bajaj Finance, HDFC Ltd, Bajaj Finserv, Max Financial Services, and SBI Life Insurance Company.
4. Pharmaceuticals
The medical field has extensively increased its revenue, especially with the emergence of the pandemic across the globe. Be it a small disease or a big one; both can't work out without the use of specialized pharmaceuticals. This is why medical is one of the top sectors which always stays on top of priority lists and bounces back with extensive revenue when appropriately invested.
5. Consumer Non-Durables
FMCG, being quite a defensive sector, has seen massive growth in recent times. These food-based retail chains have always been on the rise due to their extensive high demand throughout the globe. Such a retail sector never goes out of the investment leagues since it yields such huge profits due to its increased sales.
Additionally, the pandemic had already intensified their sales. Some of the most popular stocks in this dedicated sector include Hindustan Unilever, Asian Paints, Nestle India, and Tata Consumer Products.
6.Petroleum Sector
Another domain that is absolutely an irreplaceable sector in our lives is also considered huge revenue. Since nothing can be bought or serviced without the use of transportation, which obviously includes vehicles, petroleum is undoubtedly a profitable sector to invest in.
Be it anything, one has to move from one place to another, and it is impossible to do that without a specific vehicle. Some of the top preferred stocks of petroleum include Bharat Petroleum Corporation, Hindustan Petroleum Corporation, Indian Oil Corporation and Castrol India, and Reliance Industries.
7. Construction Materials
Along with the other sectors, the cement industry also has a huge role to play when it comes down to the investment part. Various players are hugely settled with their investment income gained from this construction sector. Since newer corporate offices, schools, and multiple buildings are always on the list to be constructed, such an industry gives a huge way to earn a profit when rightly invested.
Wrapping Up
When it comes to making your financial investments, the process often starts early. With thorough research to choose the best places to invest in, you can set yourself on the path to long-term gains.
However, navigating your path to hunt down the best mutual funds to invest in India can be daunting at times. It is difficult to keep a check on all the varying aspects of your investments, including returns, volatility, and risk management. This is exactly where Wright Research comes into play.
Offering a suite of financial management services, it is the perfect place to kickstart your investing game. Explore through their diverse portfolios and opt for the one that suits your needs. Their dedicated professionals also help you to keep a close eye on your capital invested and track it by leveraging their market dashboard.
Head to the website of Wright Research today and take your first step towards a brighter future!